Term 3 will be busy for the Wellbeing Team as we run exciting new programs across all the year levels.

We are starting with Red Frogs Australia in Week 2, who will present their Party Safe program to our Year 11's & Year 12's. The program leaves students aware and equipped to navigate many of the situations they may be confronted with in various party environments. They will explore issues such as Alcohol, Drugs and the Australian drinking culture, Mental Health, Peer Pressure, Social Media, and Making positive choices. The Party Safe curriculum is based on the latest research and the years of experience Red Frogs has in supporting young people in party environments such as university parties and end-of-school celebrations.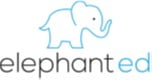 Elephant Ed will also visit our Year 7's-10's throughout Term 3 & Term 4 to discuss issues commonly faced by adolescents including safety, identity, body image, social media, and other issues. They deliver age-appropriate workshops that are tried and tested across all relevant age groups and are mapped to State and National curriculum guidelines. They work towards empowering young people to make informed, positive and safe decisions about sexuality, relationships and growing up.
Some great scholarships are coming up. ABCN scholarships are open to Year 10 students with $7,000 in financial assistance for school expenses over 3 years.  Variety believes all kids should have the chance to follow their dreams and reach their full potential, and they are offering scholarships up to the value of $5,000 in the areas of Education, Sports and the Arts. Please read below for more information.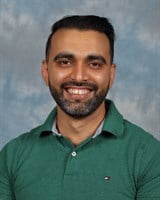 "Everyone you admire was once a beginner." – Jack Butche
Amal Saleh-Zada| Student Wellbeing Coordinator
Scholarship Opportunity for Year 10 Students
ABCN Accelerate Scholarships 2022

Applications are open for a scholarship supporting Year 10 students facing economic, family or social challenges that impact their studies or capacity to achieve their tertiary pathway. The Australian Business and Community Network (ABCN) Accelerate Scholarship program provides students with a dedicated corporate mentor and financial support.
This includes time with the mentor to help set goals and develop valuable workplace skills and $7,000 in financial assistance, for school expenses, over 3 years.
Eligibility requirements
All Year 10 students who are Australian citizens or permanent residents are eligible to apply.
Students must also meet 2 out of the 3 categories to be eligible:
demonstrated academic commitment and high engagement
demonstrated responsibility and organisation as a leader at school or in extra-curricular activities
demonstrated commitment and dedication to community service and sports, including to others in need, to their extended family unit or sporting team
How to apply
Interested students should speak to their Year Level Team Leader about the application process and their eligibility.
As part of the application, students must submit a short essay addressing 'the difference this ABCN scholarship will make to my life and the community around me', and include the following responses:
the benefits of having a mentor
what the student would use the scholarship funds for
the impact they would have in their community
The principal must submit the application on behalf of the student.
Applications close Friday 19 August 2022.
Scholarship recipients will be informed in late October 2022.
For further information about the essay and eligibility, refer to the application guide: https://abcn.com.au/wp-content/uploads/2022/06/ABCN-Accelerate-Application-Guide-2022-FINAL.pdf
All kids deserve a fair go

Variety believes all kids should have the chance to follow their dreams and reach their full potential, so they have created two kinds of Variety Heart Scholarships to help kids do just that.
Existing Talent is designed to support children with a demonstrated talent who are living with disability or illness or experiencing disadvantage, to reach the next stage of development in their talent.
Educational is designed to support children who are experiencing disadvantage assistance to cover the basic educational needs.
All kids deserve to follow their dreams.
Whether it's a dream to compete at a higher level in sport or wow a crowd on a stage – Variety Heart Scholarships can cover items such as travel, accommodation, equipment, coaching, competition fees and much more.
Scholarships are awarded up to the value of $5,000 in the areas of Education, Sports and the Arts.
Who can apply?
Australian citizens, permanent residents or residents of Victoria, aged 6 to 17 years and able to demonstrate an existing talent with Education, Sport or the Arts.
Please read the guidelines and refer to their list of Frequently Asked Questions before you apply – https://www.variety.org.au/vic/wp-content/uploads/2018/08/Variety-Heart-Scholarships-FAQs_17July18.pdf
All submissions received by the end of each month will be assessed in the following month until our allocation is exhausted.
For more info visit: https://www.variety.org.au/vic/scholarships
Be Kind to your Beautiful Mind!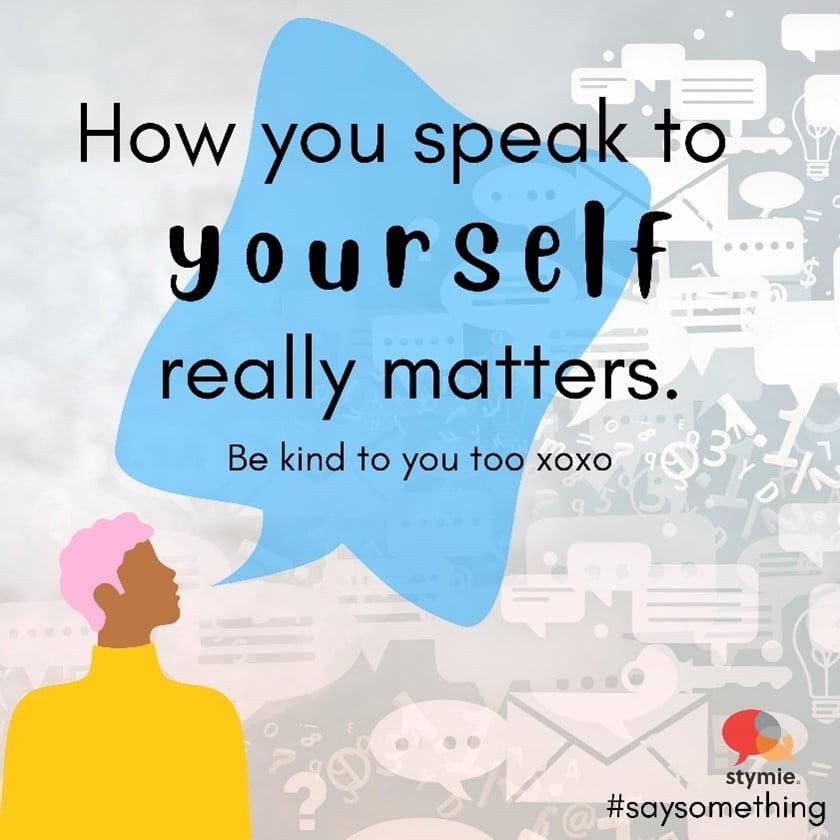 #stymie #saysomething #healtheharm #wegotyou #youvegotthis #educationforall
Lunch Time Groups
Explore, facilitated by Gail, our School Chaplain, is a group for Year 7/8 girls and students who identify as female to connect through games, crafts, activities and discussion. The group will explore themes of friendships, personal strengths, coping and lots more. It runs Tuesdays at lunchtime in the Wellbeing Centre. Interested students can speak to the Year Level Leader or pop in to see Gail on a Monday or Tuesday for more information.
? Squad – our LGBTQ+ group continues to run on Thursday lunchtimes in the Wellbeing Centre and is open to all students.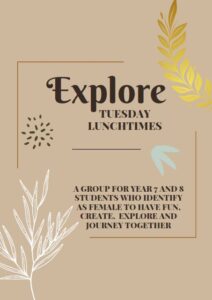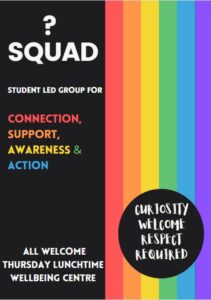 Fathering Project
The Fathering Project is coming to Fairhills! The Fathering Project educates, connects and mobilises fathers and families to create brighter futures for all children. It is research-based prevention and early intervention programs and resources that engage, inform, inspire, equip and support fathers, families, schools, corporates and community-based organisations. It's simple, fathers and father figures play a critical role in preventing long-term social, emotional and cognitive difficulties and creating the conditions for children to thrive.
If you are interested in participating in this fantastic upcoming project, please contact our Student Wellbeing Coordinator – Amal Saleh-Zada (amal.saleh-zada@education.vic.gov.au or 0456 416 431).

Breakfast Club

Breakfast Club is held in J2 – entrance from the Canteen Courtyard) as follows:
Monday – recess – basic breakfast
Tuesday – recess – basic breakfast
Wednesday – before school – basic breakfast
Thursday – before school – pancakes
Friday – before school – basic breakfast
Families in need – External Food Options
For families in need please see the following services that support the community: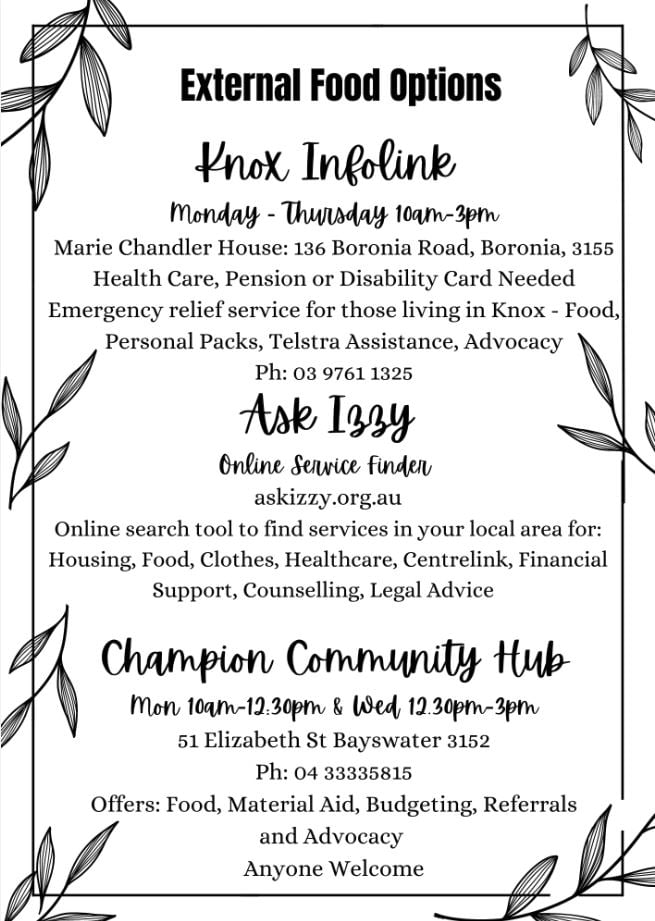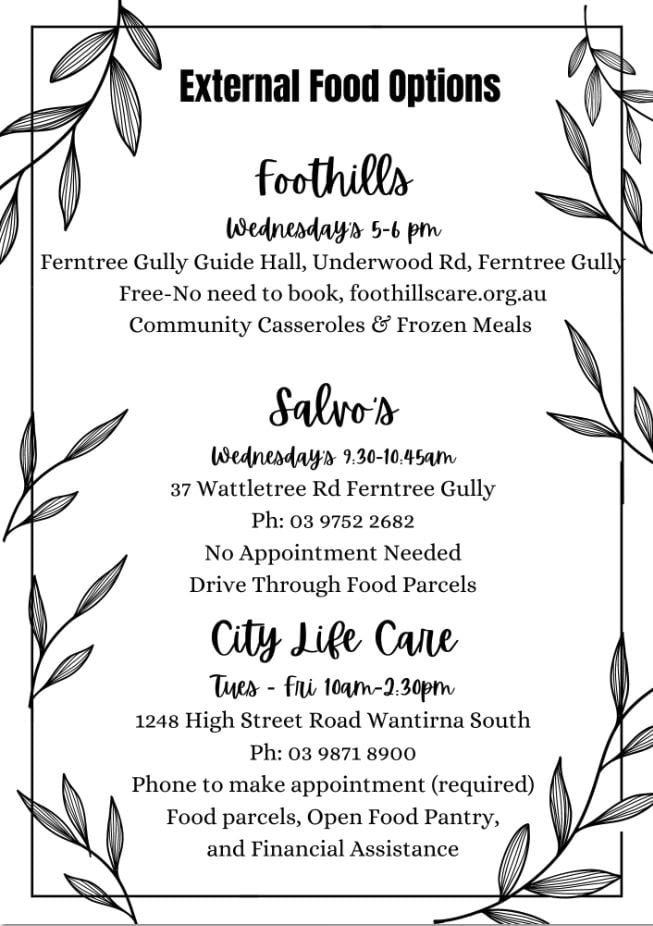 Student Wellbeing Team
Student Wellbeing Coordinator – Amal Saleh-Zada
Chaplain – Gail Ackroyd
Mental Health Practitioner – Peta Cartwright
University Placement Students: Elli, Kerrie, Michelle
Accessing Support through Wellbeing
The Wellbeing Team can assist students in accessing the support they need to navigate challenges that may impact their ability to engage in learning or general feelings of Wellbeing. For example, the Wellbeing Team can engage the student or family in an initial assessment of need, short term counselling or skills development or referrals to external support agencies. Students may also be encouraged to access self-help strategies or resources. We will explore the best options for each student.
We encourage students and/or parents to contact the year level leaders for wellbeing referrals. You can also make an appointment with someone from the Wellbeing Team by attending the Wellbeing Centre or contacting us via email at wellbeing@fairhillshs.vic.edu.au
Teachers who have concerns about a student may also refer them to the Wellbeing Team through their Year Level Coordinator.
If you or anyone you know needs immediate support, please contact kidshelpline or lifeline on the numbers at the bottom of this page.