We have had an exciting and active term in Wellbeing. Our campaign for Term 1 was the National Day of Action against Violence and Bullying. Peta (our Mental Health Practitioner) and our University placement students worked very hard to deliver programs and activities through THRIVE classes based on the science of kindness and how we can all positively impact ourselves and others through simple acts of kindness. Gail (our school Chaplain, also a Pat Cronin presenter) spoke to our Year 10's about the impact and alternatives to social violence. As part of the campaign, the 'Community Kindness Challenge' will continue until the end of the term.
We are constantly looking for ways to improve our student support. As a result of feedback from students, we are making some changes to our Breakfast Club time. Please see below for more details. We are also very excited to share external food supports/services. Gail and our interns have been working tirelessly to find local services for our families needing a helping hand. Please see the info for "Families in need: External Food Options" below for more details.
A big THANK YOU to our volunteers from Knox Baptist Church for their dedication and commitment to facilitating our Breakfast Club. To show our appreciation, we nominated them for the Aston Award. They were recognised as one of the finalists in the Community Group Award category and received a certificate of appreciation last week.
We are also launching some new programs for Term 2, including Explore and Living Well. Our ? Squad support group will continue to run on Thursday at lunchtime. To find out more about 'What's on in Wellbeing?' read below.
We wish all our Fairhills community a safe and relaxing break. See you all in term 2!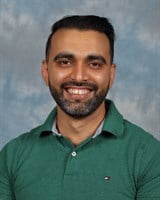 "It isn't where you came from. It's where you're going that counts." – Ella Fitzgerald
Amal Saleh-Zada| Student Wellbeing Coordinator
National Day of Action against Violence and Bullying Week
In Week 7, we participated in our first whole-school wellbeing campaign for the year. We acknowledged the National Day of Action against Violence and Bullying – an Australia wide campaign to support schools to take action against bullying and help build safe, inclusive and respectful communities.
This year's theme was Kindness Culture and was an opportunity for us all to reflect on how we can create a safe, respectful and inclusive environment for our school community. All year levels participated in activities in class to encourage reflection and positive action. 
Our Year 10's had a visiting presentation from the Pat Cronin Foundation to address the impact and consequences of social violence, particularly the coward punch. A moving presentation really called on the Year 10s to think about their choices in all aspects of their lives.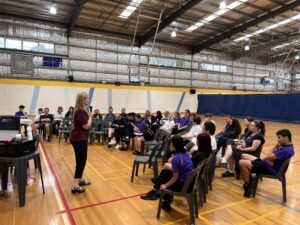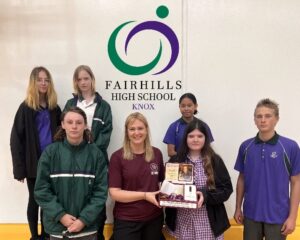 The week culminated in a lunchtime activity on Friday 18 March, the actual national day of action. We held a whole school activity in the courtyard where we invited students and staff to use their thumbprints as a pledge to the actions they can take to spread kindness in our community. We now have the most stunning canvas painting of a Kindness Tree which is an ongoing representation of our school's commitment to stopping bullying. Thank you to everyone who participated and contributed to the week.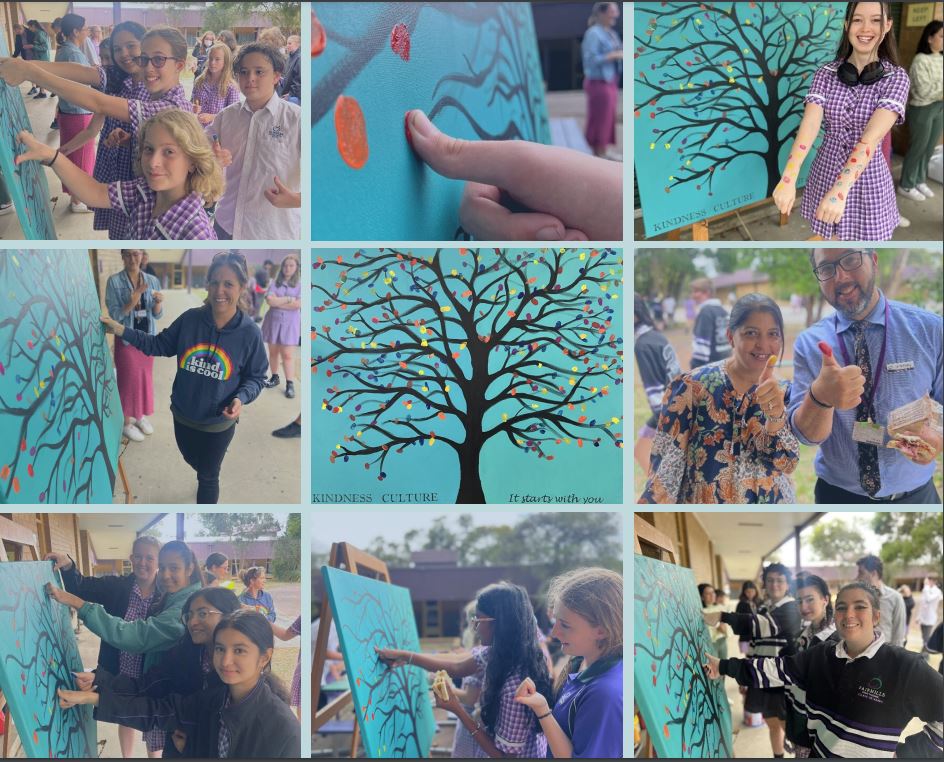 Community Kindness Challenge
As part of our Kindness Culture activities in Week 7, we launched a Community Kindness Challenge. We invited all students, staff and families to nominate someone at school who has been a Kindness Champion – someone who has made a positive impact on them or someone else through a random act of kindness, a kind word or gesture. It has been lovely to see how many staff and students have been spreading kindness. Keep it up – it starts with every one of us!
What's on in Wellbeing?
The Wellbeing team facilitates many groups and workshops throughout the year.
? Squad, our LGBTIQ+ support group, runs on Thursday lunchtimes. This group is for connection, support, awareness and action for our LGBTIQ+ community and allies. Curiosity welcome, respect required. This is a student-led group supported by Peta Cartwright, our Mental Health Practitioner.
In Term 2, we have Explore starting on Tuesday lunchtimes – this is a group for young people who identify as female in Year 7 and 8 to explore friendships, strengths, coping in a safe, supportive and fun space. Gail Ackroyd, our School Chaplain, will facilitate this group.
Our Living Well Workshops will also kick off in Term 2. It is a series of lunchtime workshops that students can attend to explore coping strategies, manage stress and anxiety, keep a healthy mind and body and promote good wellbeing. Different workshops will be available each term.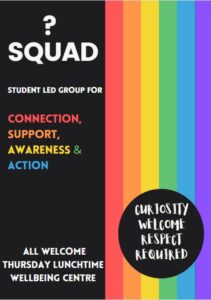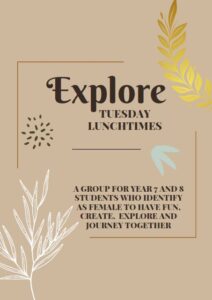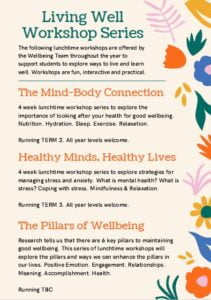 Breakfast Club

From Term 2, Breakfast Club (held in J2 – entrance from the Canteen Courtyard) will move time as follows:
Monday – recess – basic breakfast
Tuesday – recess – basic breakfast
Wednesday – before school – basic breakfast
Thursday – before school – pancakes
Friday – before school – basic breakfast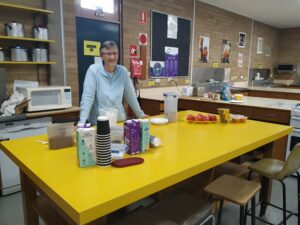 Families in need – External Food Options
For families in need please see the following services that support the community: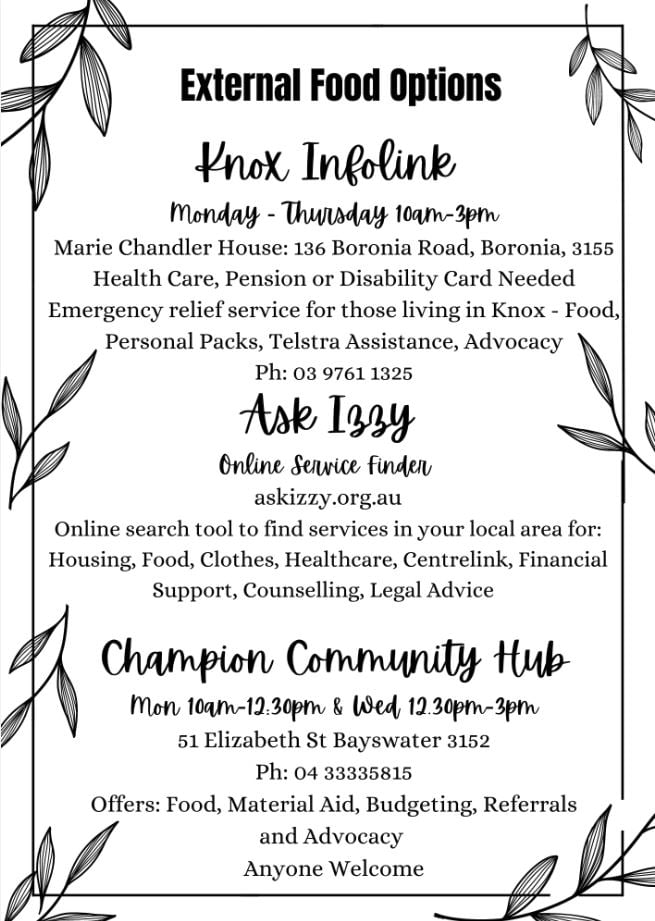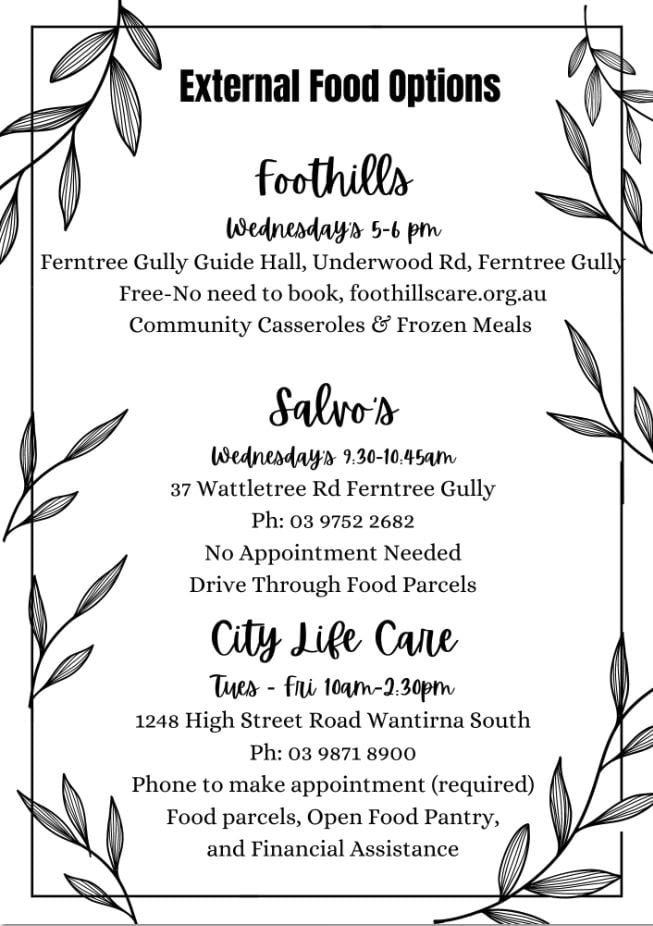 Accessing Support through Wellbeing
The Wellbeing Team can assist students in accessing the support they need to navigate challenges that may impact their ability to engage in learning or general feelings of Wellbeing. For example, the Wellbeing Team can engage the student or family in an initial assessment of need, short term counselling or skills development or referrals to external support agencies. Students may also be encouraged to access self-help strategies or resources. We will explore the best options for each student.
We encourage students and/or parents to contact the year level leaders for wellbeing referrals. You can also make an appointment with someone from the Wellbeing Team by attending the Wellbeing Centre or contacting us via email at wellbeing@fairhillshs.vic.edu.au
Teachers who have concerns about a student may also refer them to the Wellbeing Team through their Year Level Coordinator.
If you or anyone you know needs immediate support, please contact kidshelpline or lifeline on the numbers at the bottom of this page.
Student Wellbeing Team
Student Wellbeing Coordinator – Amal Saleh-Zada
Chaplain – Gail Ackroyd
Mental Health Practitioner – Peta Cartwright
Student Support Services Psychologist – Emily Habard
University Placement Students: Bec, Maddy, Michelle, Petrina, Steph