Another big few weeks in the wellbeing space!
Our Year 11's and 12's had an amazing wellbeing day facilitated by external groups The Man Cave and the REACH Foundation. All reports are that the students had deep and powerful experiences of connecting with their peers and themselves around issues of gender stereotypes, healthy emotional expression, self confidence and positive peer connections. We were all super impressed by how well the students stepped into these conversations with respect and authenticity.
The Smile Squad dental service has been on site for the last 2 weeks providing free dental check ups for students. For students who may require follow up treatment, the treatment truck will be onsite next week for follow up appointments. Families will be contacted directly by Smile Squad if your young person needs another appointment.
In week 10 we have a whole school wellbeing campaign for RUOK? Day. RUOK? Day is acknowledged nationally on Thursday 14 September and is the national day of action when Australians are reminded that every day is the day to ask, 'are you OK?' and start a meaningful conversation whenever they spot the signs that someone they care about might be struggling with life. Mariani, our Mental Health Practitioner and the Wellbeing Team will be hosting whole school activities at lunchtime on Thursday 14 September and we encourage all students to 'be here to hear'. The RUOK? Message does not require us to give professional advise – rather encourages us all to be supportive friends and to encourage others to seek help in difficult times.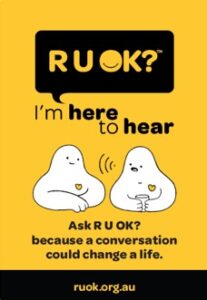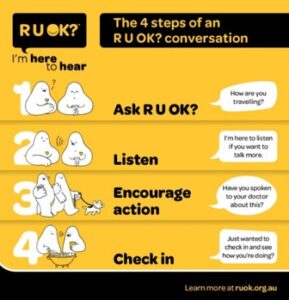 September is BodyKind month
Body Kind is an initiative to support and grow Body Kindness in school communities. Being Body Kind is being aware of how we speak about, treat and look after our body. It is about the language we use about our own body and others; in our heads, face to face and online. It is about how we move, nourish and nurture our body. It is about treating our body with kindness and respect, regardless of how it looks or what it can or can't do. Our Health Promotion Nurse, Kaye Walker, is running a Body Kind Campaign throughout September. Students will receive weekly info through compass on the common issues facing young people when it comes to their bodies as well as tips and strategies to support Body Kindness. Kaye will be hosting a pop up Health clinic on RUOK? Day to encourage students to reflect on how they can be Body Kind. Students in Year 7/8 will also be having Body Kind sessions in THRIVE classes in Term 4.
Butterfly Foundation
Butterfly Foundation is the national charity for all Australians impacted by eating disorders and body image issues, and for the families, friends and communities who support them.
Please find their upcoming Webinars for parents:
Supporting Teens to Eat Well in a Food Confused World – FREE Parent Webinar
Join Butterfly and two Practicing Accredited Dietitians and learn how to help your teen have a positive and balanced relationship with food. Topics covered include: Why it's hard to charter a healthy course | What's helpful diet information and what's problematic | Supporting eating through puberty | Troubleshooting common eating dilemmas – 'junk food', 'high protein diets', veganism, not eating at school.
Details
Tuesday, 12 September
7 – 8pm (AEST), plus question time
Via Zoom (time-limited recording available)
Register: https://events.butterfly.org.au/portal//event/?id=EP_BCCT_Parent_Webinar477928020&Name=12/09/23
Body Confident Children and Teens – For Parents ($15 registration fee)
Information and practical tips for parents of primary and secondary-age children on how to promote positive body image in the home. Topics covered include: Body image influences | The role of body image in problematic eating and exercise behaviours | How to positively role model | Responding to appearance talk and appearance-teasing |What to do if concerned.
Details
Tuesday, 17 October
7 – 8pm (AEDT), plus question time
Via Zoom (recording available)
Register: https://events.butterfly.org.au/portal//event/?id=EP_BCCT_Parent_Webinar2583081573&Name=17/10/23 BCCT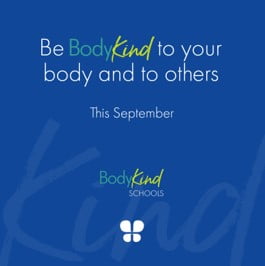 We would like to wish all our students a safe and restful holiday. For our Year 12 students heading into exams a reminder about the balance needed for your brains and bodies at this time. It is important, more than ever, to keep all the essentials in good balance- good food, good sleep, good fun, to enable good study!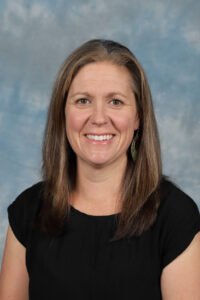 Peta Cartwright | Student Wellbeing Coordinator
Accessing support through Wellbeing – Students
The Wellbeing Team can support students to navigate challenges that may be impacting on their ability to engage in learning or general feelings of wellbeing. This can include: transitions and adjusting to change, family or relationship difficulties, grief and loss, mental health concerns, drug and alcohol concerns, and many other challenges that young people encounter.
An initial appointment with a member of the wellbeing team will be an assessment of need with the student or family which will help to decide the best support option for the student. Support options available through the Wellbeing Team are:
Individual short term counselling, psychoeducation and skills development
group programs
referrals to external support agencies.
students may also be encouraged to access self-help strategies or resources.
Referrals to see someone from the team are made through year level leaders. Parents, students or teachers with concerns are encouraged to speak to their year level leader. Students or parents can also make an appointment directly with someone from the Wellbeing Team by attending the Wellbeing Centre, calling the school office or contacting us via email at wellbeing@fairhillshs.vic.edu.au
Year level leaders who are made aware of concerns by a teacher will always endeavour to make contact with parents before referring a student to the Wellbeing team.
All counselling sessions with students are confidential and information is only shared if a student is deemed to be at risk of harm.
If you or anyone you know needs immediate support, please contact kidshelpline or lifeline on the numbers at the bottom of this page.
Accessing Support – Families
Most families, at some stage, need a little extra support to manage the normal challenges of life as well as the more difficult situations that arise. If you are experiencing hardship, stress or circumstances that are impacting on the wellbeing of your family life or your ability to cope, the Wellbeing Team can help to connect you with community services that can provide support. Please contact the Wellbeing Team via the school phone number or via email at wellbeing@fairhillshs.vic.edu.au
What's on
| | |
| --- | --- |
| Events | Clink on the links below for further information |
| Knox 4 Me – a support program for rainbow young people aged 14-18 | Knox 4 Me |
| Knox Nocturnals Youth Program – Meet new friends, join activities | Knox Nocturnals |
| FReeZA Committee – Knox Live is a group of young people aged 15 to 25 who plan and run music, arts and cultural events in Knox | FReeZA |
| 9 September 10am-2pm – Knox Youth Summit | Knox Youth Summit |
| 12 September 7:00pm-8:30pm – Consent, Cyberbullying, Sexting and the Law – Parent Webinar | Parent Webinar |
| 18 September 10:30am-2:00pm – Remake Remodel – Make a seat using an old skateboard 3.5 free workshop | Remake Remodel |
| 18 September 10:00am-11.30am – This workshop is ideal for young people seeking their first job, whether it's part-time employment while you study, or jumping into career options after school | Free Workshops |
| 18 September 10:00am-11:30am – Online coaching for parents of teenagers | Enrol |
| 26 September 10:am-1:00pm – Youth Advocacy Training | Youth Advocacy Training |
Clothing Support – Thread Together
We recently partnered with Thread Together to provide free and brand clothing for students in need. Thread Together collects brand new unsold clothing from all around the country, saving it from landfill. Thread Together believe that people in need deserve the dignity and choice of new clothing, without judgement. If your children need any help with clothing, please contact the Wellbeing team for further assistance.
Breakfast Club
With the support of volunteers from local churches- Knox Baptist and Hillsong Church we are able to provide a breakfast club 5 days a week for our students, including a Pancake Breakfast every Thursday morning. All students are welcome.
Food support for families in need
Each fortnight on a Tuesday after school from 2:48pm – 3:08pm we have food support available for families who may be in need, for whatever reason. We have a selection of frozen meals and pantry items that families can collect from the former school canteen area without question or judgement. We know that access to food can be a real challenge for some families and we feel strongly about supporting the basic needs of our students and families. Watch out for compass posts each fortnight.
External food support options
The following community agencies provide food support for families in need.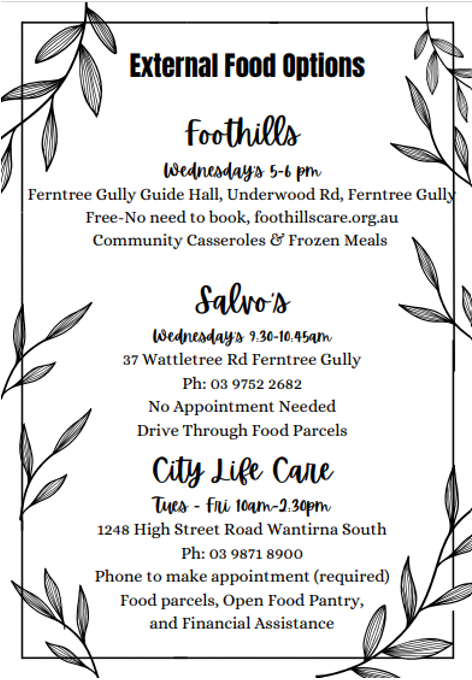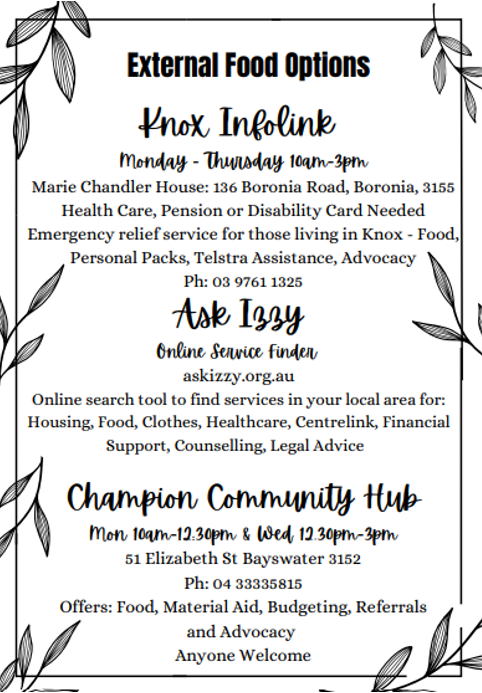 Cybersecurity: Resources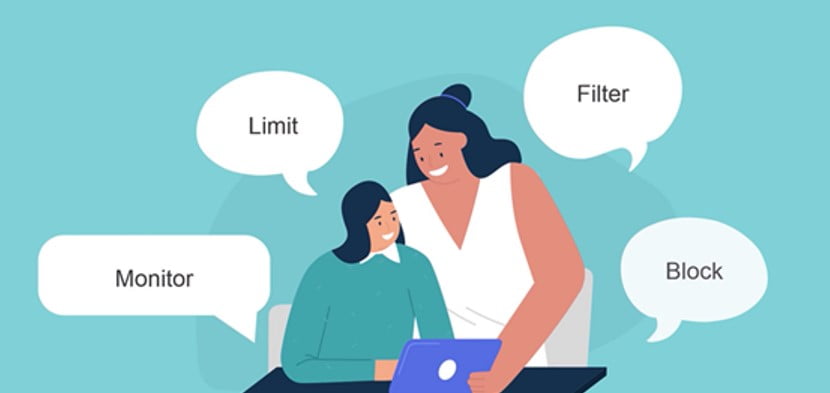 eSafety's express learning series provides parents and carers with practical tips and advice on common online safety concerns. The videos are 5 to 10 minutes long and cover four important topics, including:
Setting up parental controls
Digital technologies and mental health
Cyberbullying and online drama
Online sexual harassment and image-based abuse

Cyber Safety Project provides a whole community approach focused on developing future skills, lifelong habits and self-regulation when innovating and using digital technologies for work, life and play. To create safer communities our educational programs and proactive teaching strategies will engage the whole community with learning how to participate safely and responsibly in a digitally-engaged world. To learn more about family workshops and webinars for parents or carers, please visit https://cybersafetyproject.com.au/families/
The Team