Professional Learning Communities (PLC)
As we move towards the end of Term 2, I am pleased to report on the progress of some of the initiatives that have been implemented at the school.
The introduction of the teacher Professional Learning Communities (PLC) has, at its core, a relentless focus on continuous improvement which brings together teams of teachers and leaders with a singular focus on success for every student. This Department of Education and Training (DET) initiative is characterised by teacher collaboration, shared practice, collective responsibility and pedagogical change to inspire change of practice. The work of PLCs is undertaken through regular cycles of disciplined, collaborative inquiry. PLCs ensure student learning drives teacher learning through targeted professional learning, classroom observation and the support of school leadership. The three big ideas of PLCs are:
A focus on learning
A collaborative culture and collective responsibility
Results orientation
With these ideas in mind, teachers have as their focus, the Inquiry Cycle to evaluate and diagnose data, prioritise and set goals, develop, plan and finally implement and monitor student's progress.
Tutor Learning Initiative (TLI) Program
In addition to PLCs, I am pleased to report that the Tutor Learning Initiative (TLI) program has grown in Term 2. With the good work being undertaken by Liv Johnson and Bec Vance (Literacy Tutors).  I also welcome two Numeracy Tutors to the program: Sandra Dinh and Isabel Yu.
TLI provide students, who may have struggled most during remote and flexible learning in 2020-2021, with additional assistance in literacy and numeracy. Tutors prioritise small group learning time to meet the needs of identified students, and participate in three 45-minute small-group learning sessions per week over an eight-week period. Students are carefully selected, based on comprehensive testing, their specific needs, age and learning difficulties. Fairhills ensures that tutors are used in the most effective way to support identified students.
Exams
Parents and students will be aware that the exam period is fast approaching with Year 11 Exams being held from 6 -7 June, 9-10 June and Years 9 and 10 Exams from 10-16 June. The exams in core subjects will be held for 90 minutes and electives will take 60 minutes. Report Writing Day will be held on 17 June with electronic copies of reports being distributed to parents and guardians on the last day of term – 24 June.
Year 9 Connect Program
The Year 9 Connect Program have been busy the past couple of weeks.  They have been assisting the Friends of Glenfern Valley Bushland by planting trees in a section of the fire damaged area of the reserve, cooking a delicious range of soups each week to help the needy within the Ferntree Gully community and cleaning up the school grounds.  See the Middle School report for more information.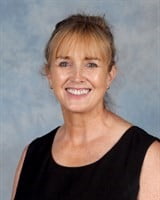 Karen Dean
Associate Principal, Staff Development/Leadership