VCE End of Year Preparations
As we come to the end of Term 3 the students in Year 12 have only just over five weeks until the VCAA Exams begin. The next five weeks are very important in focusing on revision and exam preparation. The effort and study they put into their subjects over this time will be key to achieving a good result. On Thursday and Friday this week we have structured a formal exam timetable to allow them to complete a practice exam for each subject under exam conditions. This will be the first practice exam of many they should complete in the lead up to the actual exam. Students will need to review these exams and use their teachers to get valuable feedback on how to improve their answers.
The Year 12 students will also spend the first week of the September holidays undertaking a revision program organised by the Knox government schools. Students will be given a variety of revision materials and course information to help them focus on their exam preparation (this information has already been provided to each student).
The Year 12 students will complete their revision next term with the final date for set classes being Tuesday 18 October.
On Wednesday 19 October we will hold a celebration breakfast for students and staff in the morning.  In the evening we will join with the Year 12 students and their families to hold our Valedictory Dinner to celebrate their achievements and present awards to a number of students.
The main group of Year 12 exams begin with English on the 26 October.
Year 11 students continue with classes until their exams begin on the 14 November. This year we are planning to run two weeks of 2023 VCE introductory classes (21st through to the 2 December) to focus students on their next year's subjects. Students will complete these lessons and may be required to attend course discussion interviews the following week after their exam and unit results are reviewed.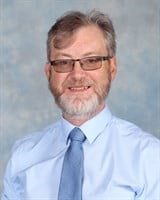 Paul Donaldson
Assistant Principal and Senior School Leader
Tour of Parliament
Our School Captains Caitlyn Griffiths and Michaela Lutwyche had an enjoyable and valuable experience when the captains of our local government schools were invited on a tour of parliament with Kim Wells MP and Nick Wakeling MP.

Year 11 Foundation Maths 3D Print
On 30 August, the Year 11 Foundation Maths class spent the day at KIOSC, learning how to etch, lasercut and code. They each produced a wonderful display light, with their own artistic etching on Perspex. The lights can be coded to any colour or pattern they like. This was followed up with some problem solving on VR headsets.
Here is some of their day for you to enjoy.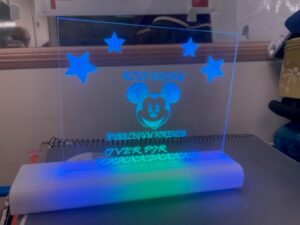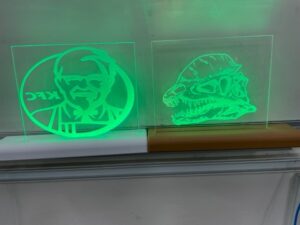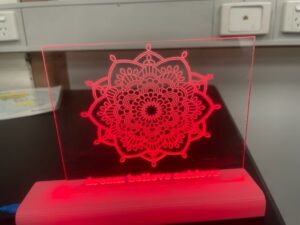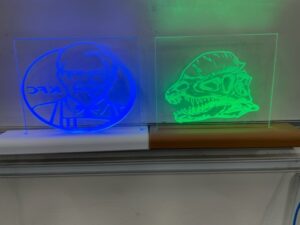 VET Dance to Bangarra Dance Company
Our VET Dance students went into the Arts Centre Melbourne to see Bangarra Dance Company's performance of 'Sandsong'. An all Indigenous Australian Dance Company, Bangarra specialises in telling Australian Stories through contemporary dance. Our students loved the performance and learnt so much through the Q&A at the end of the show, speaking with the production team and performers. If you are interested in undertaking VET Dance next year as a Year 11 subject please speak to Suzi Pedler in the PAC or Gym.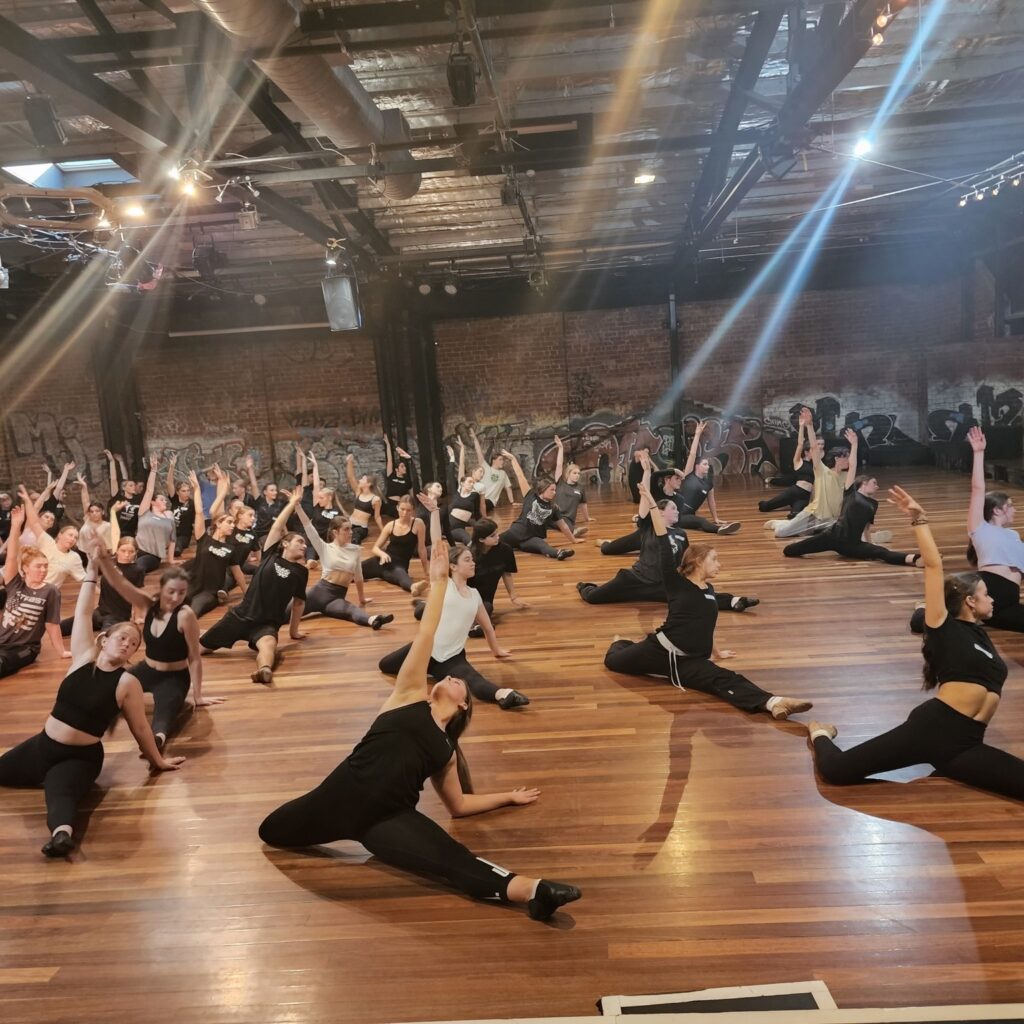 Work Experience at HMAS CERBURES
After completing the rigorous process of applying for the Navy Work Experience – lots of paperwork – and overcoming the logistical challenges of getting there, Noah was lucky enough to spend a week down at HMAS CERBERUS at Crib point.
During the experience Noah got to undertake the RAN swim test, complete with diving from heights, multiple Personal Training sessions, SAS training – with a pool designed to mirror what it is like to be lost at sea (waves, rain, lighting, and thunder). During these events Noah got to test his endurance and mental toughness all the while learning about safety and rescue procedures. He also had the opportunity to observe the use of naval artillery. As part of a work experience team Noah was charged with the responsibility of working to stop a simulated vessel from sinking, with a full size navy vessel designed to simulate water leaks that must be stopped.
This experience provided a fantastic opportunity to talk and network with current ADF members and really gain an understanding of the job opportunities available.
FROM NOAH: "Whole experience has helped to focus my goals for the future and I have decided that Marine Technician is my future career pathway – something I would not have known about or considered without this amazing opportunity."
Well done Noah.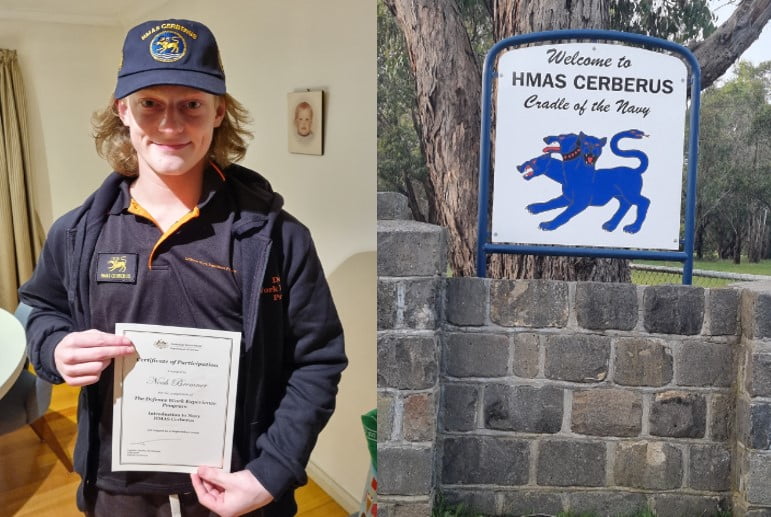 Work Experience and VET requirements for VCE Vocational Major (VM) in 2023
Students intending on completing the VCE VM in 2023 are required to complete a week of placement in 2022 to confirm their enrolment.
Congratulations to those students who have already confirmed their experience dates and paperwork.
Any student who has indicated that they wish to do the VCE VM must organise and complete placement before the end of 2022. If you are yet to do so please contact Liz Rundle in Careers for help with this process.
In addition VCE VM students must also enrol or complete a VET in Schools program. If you need assistance with this process please contact Liz Rundle.
VET as part of VCE
Students who wish to complete a VET in Schools certificate as part of their VCE must submit their application as soon as possible. Some programs are already at capacity – first in best dressed. Applications available at the front office and programs on offer are listed at http://www.mullumvetcluster.com
VET Orientation day will be on Wednesday the 30th November. This event helps students to gain an understanding of the program they have selected, practice transport to and from and meet their trainers.
Attendance is compulsory to confirm enrolment.
Information about venues and times will be communicated in term 4.
Year 12 Students – School to Community Transition
| | |
| --- | --- |
| 29 September | VTAC applications must be completed – late fees will apply after this date |
| 7 October | SEAS and Scholarship applications close (5pm) |
| November | Students need to register for the VCE results and ATAR service (by the end of November) |
| 12 December | ATAR's will be released |
| 14 December | Change of preferences must be completed |
| 21 December | January offer Round 1 domestic |
For more information visit: https://www.vtac.edu.au/
Students looking to secure Employment / Apprenticeships / Traineeships should ensure that they have an up to date resume and cover letter ready to go now. Registering profile details on job search websites will enable employers to find you. Don't forget LinkedIn.
Job hunting needs to start now – don't wait for the rush at the end of the year.
Fairhills High School Careers Office is open to assist in job applications – liz.rundle@education.vic.gov.au