VCE Subjects for 2023
We have begun conducting interviews with VCE students about their VCE pathway and subjects for 2023. Students going into Year 12 were interviewed this week and were required to check their VASS details as well as confirm their pathway (including the Vocational Major) and individual subject choices. This will continue next week for students moving into Year 11 in 2023. Students were given a copy of the booklist, senior school guidelines and reminded of the importance of reading their English novels and completing the assessment work that was set during the 2023 VCE Start program for each subject over the holiday period. This work and other details will be discussed further in the return to school parent interviews on 30 January (first school day of 2023).
Farewell
It has been my pleasure to work as the Assistant Principal in the Senior School position over the last few years (and to be a Fairhills teacher). I have always enjoyed working with the students and staff of Years 10, 11 and 12 and seeing the students move through their VCE studies and onto their post-schooling pathways. I will miss the day-to-day interactions with our students and parents and would like to wish Bill Exton (the new Senior School Assistant Principal) all the best in his work in supporting our students and staff in further developing high expectations. Fairhills High School has great students and teachers and I hope they continue to aim high and achieve their goals.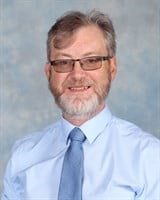 Paul Donaldson
Assistant Principal and Senior School Leader
Year 10 and 11 STEAM
Well done to our Year 10 and 11 students who attended the Melbourne University Electrical Engineering Club SuperHack Competition on the November 26 and 27.
SuperHack is an annual engineering hackathon hosted by the Melbourne University Electrical Engineering Club (MUEEC), and is MUEEC's largest event of the year. It is an annual engineering hackathon for female, non-binary and gender diverse students in years 10 and 11 from metropolitan and regional across Victoria to compete in teams to solve engineering design challenges based on a set theme.
Our two teams were against some highly competitive schools. FHS Year 10 team made a self locking door and our Year 11 team made a security system.
The students did a great job.
Congratulations to our Year 11 students team – Felicity, Ameisha, Swastika and Maahira for winning the Mentor Choice Award!!!

Year 11 VCAL – Share the Dignity
Mrs Suzi Pedler, Year 11 VCAL Teacher, had the honour of dropping off our 15 bags to Bunnings Scoresby for the Share the Dignity Drive.
Our Year 11 VCAL class held a range of fundraisers to raise money to create these bags, including 5 Mum and Bub Bags, to help out women in need this Christmas.
Thank you to everyone within the Fairhills Community who donated in any way. And remember; it's not too late for you to create your own bag or donate online. Thanks to Rachael at Bunnings Scoresby for her help in unloading the bags.

VET 2023
All 2023 VET students should have received a confirmation letter outlining the details of their class time, venue, program and charges.
If you have not received such a letter and believe that you are doing a VET program in 2023 please contact Liz Rundle – Liz.Rundle@education.vic.gov.au
Students who are on wait lists will be informed of any change in their enrolment status as soon as the school is – sit tight a lot can change before February next year.
Students enrolled to complete year 1 of VET in 2023 should have attended an orientation session on the 30 November (some programs have alternative dates and students would have been contacted by email).
Check your emails
Given that most VET programs are delivered at alternative settings it is critical that students and family monitor emails for any communication from their provider. The providers will always communicate with the students first and foremost and the school as a curtesy.
Key things to remember for VET
VET is once a week, so if you miss a class you miss a whole weeks work. It is not OK to be away!
If you are genuinely ill, please contact your trainer and Fairhills
VET is competency based which means your trainer must see you complete tasks in the classroom.
VET counts towards your VCE / VCE VM – each unit of VET is allocated nominal hours and on completion of 90 hours you achieve 1 unit towards your VCE. VCE VM students must achieve 180 hours across their program
Remember you are in the community representing Fairhills, make sure you follow the dress code and behavioural expectations of your host provider. We know you will do us proud!
If you have any concerns question about your VET – please speak up contact Liz Rundle.
Withdrawing from VET Programs
It is important that we get VET programs right for each student from the very start. The census date for VET is at the end of February after which the school is charged regardless of attendance / completion.
We want all our VET students to be in the right VET programs – so please keep us informed.

ATAR and change of preference week
On Monday 12 December all students undertaking a Year 12 subject will be able to access their studies scores and ATAR.
If you don't know your VCAA number (the number on all your exams), please contact: Liz Rundle or Julian Stokes.
Try to be patient the site crashes every year with the huge amount of traffic first thing – maybe give it an hour.
Please make sure you have registered to be able to access your results online or via your Mobile phone.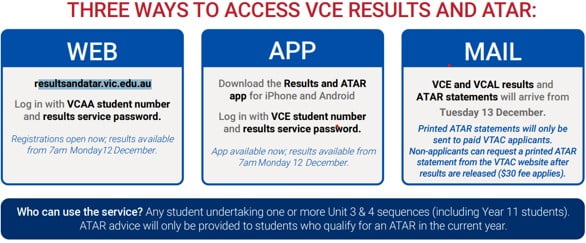 Students who have applied for courses and wish to be considered for the early December round must adjust their preference list before 14 December at 4pm. (be aware that not all courses participate in this round). December offers December 21 at 2pm.
All other change of preference needs to be completed by Thursday the 22nd of December for the 6 January first round of offers.
I will contact all year 12 students who have applied for courses via the VTAC system and providing support and guidance if change is required.
Please make sure that you have paid your application fee, or your courses application will have to wait for the second round.
Don't hesitate in contacting me either at school: 9758 5022 or 0408394958, I am happy to help. Remember the ATAR doesn't define you and there are always solutions to any problem we just need to nut it out.
Parents and families, I would ask you to be mindful of the fact that the ATAR is governed under the privacy act and belongs to the student, let them share when they are ready, just ask are they happy and will they be able to access their courses? Now is the time for planning the future rather than reflecting on the past.
I wish everyone receiving results on Monday the 12 December all the very best – keep in contact and lets start planning 2023!

VCE VM students
Students and families of VCE VM students are encouraged to have secured Structured Workplace learning placement for Fridays ready for the start of 2023. Placement should be linked in some way to the VET program completed or being studied. Extra time at your part time work is not taking advantage of this opportunity to get out into the work force.
Be mindful of requested a year's placement up front rather ask for 1 day a week for 4-6 weeks to get started.
Students must have completed the legal documentation prior to placement to provide them with insurance.
If you have someone willing to host you, you must complete the SWL documentation.
This can be found at: https://www.education.vic.gov.au/Documents/school/teachers/teachingresources/careers/work/SWLarrangefrmamended.pdf
Some industries require a Travel Document to provide insurance for any travel.
https://www.education.vic.gov.au/Documents/school/teachers/teachingresources/careers/work/SWLtravaccfrmamended.pdf
REMEMBER you are doing SWL not work experience because this is part of your VCE – VM program.
You will then need to meet with the employer and complete both the student, parent and employer sections and then return to Careers office for the final Principals signature.
Remember to use your networks and if that is not successful Cold Calling.
Please contact me if you have any questions; Liz.Rundle@education.vic.gov.au
Liz Rundle