Capital Works
The re-tender of the $8 million construction works at Fairhills High School is under way. There are five construction companies who have put in a tender for the project. If this tender process is successful we should be able to start construction during the Term 3 holidays.
In the meantime the Learning Excellence team will continue to develop inspiring and engaging programs to implement within the new spaces. e.g. robotics program!
Library
The library will reopen in early Term 3. The library will still be used for the Year 9 Connect program but outside of these times students can access our spacious library. This is great news considering the wet and cold weather at the moment.
Attendance Process
90%+ Attendance Expectation
The Department of Education (DET) is very clear on their attendance expectations – 'Every day counts.'
"There is no safe number of days for missing school – each day a student misses puts them behind and can affect their educational outcomes. Each missed day is associated with falling behind in subject topics and assessment tasks, and lead to fewer subject choices and may impact on achievement in years 11 and 12 and post-school pathways." – DET website
One of my biggest successes at my former school was reducing absenteeism by half. I did this by creating a process that was clear, supportive, built stronger relationships with parents/carers and provided every reasonable opportunity for students to have attendance success. As a result, students on average had an extra 12 days of learning every year. This led to a significant increase in engagement and learning outcomes. For example, ATAR scores increased by 15 points and went above the state average. If students are in class, they are learning.
Over the holidays, Paul Donaldson, Silvana La Leggia and I developed a similar process.
All relevant information has been sent directly to the school community via Compass.
The attachments include:
Attendance process
FAQ (Frequently Asked Questions)
If you have read the attachments and still require further information on the new process please email Silvana La Leggia (Middle School Leader) or Paul Donaldson (Senior School Leader)and they will get back to you within 48 hours.
Mental Health Benefits of Exercise
Physical Education is a core subject at Fairhills High School from Year 7-10. Research clearly shows the link between physical activity, mental health and learning.
Exercise has many benefits, not only for your physical health but also your mental health. In your brain, exercise stimulates chemicals that improve your mood and the parts of the brain responsible for memory and learning.
Exercise releases chemicals like endorphins and serotonin that improve your mood. It can also get you out in the world, help to reduce any feelings of loneliness and isolation, and put you in touch with other people.
If you exercise regularly, it can reduce your stress and symptoms of mental health conditions like depression and anxiety, and help with recovery from mental health issues.
It can also improve your sleep, which is important in many different ways.
Exercise and the mind
Exercise pumps blood to the brain, which can help you to think more clearly.  It increases the size of the hippocampus, the part of the brain responsible for memory.
It also increases the connections between the nerve cells in the brain. This improves your memory and helps protect your brain against injury and disease.
Moderate to vigorous physical activity
Specialists recommend children and young people do at least 60 minutes each day of moderate to vigorous physical activity that makes the heart beat faster. More is better.
It doesn't have to be a full 60 minutes at once – several shorter sessions through the day work too.
At least 3 days per week, children and young people should incorporate vigorous activities and activities that strengthen muscle and bone in the 60 minutes.
https://www.healthdirect.gov.au/exercise-and-mental-health
https://www.health.gov.au/health-topics/physical-activity-and-exercise/physical-activity-and-exercise-guidelines-for-all-australians/for-children-and-young-people-5-to-17-years
It has been great to see some of our students playing down ball in the court yards. Keep up the excellent work!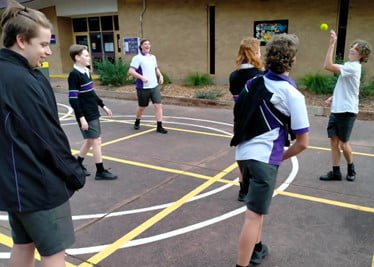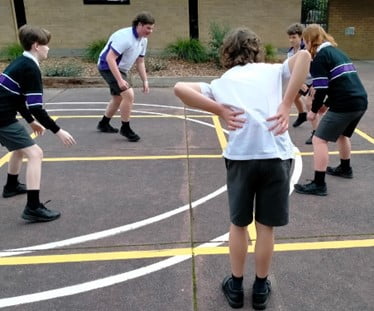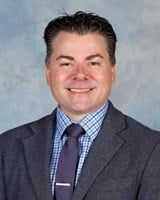 Ian Van Schie
Principal