The value of extracurricular activities
Almost every high school in Australia offers some type of extracurricular activity, such as music, academic clubs, and sports. These activities offer opportunities for students to learn the values of teamwork, individual and group responsibility, physical strength and endurance, competition, diversity, and a sense of culture and community.
Extracurricular activities provide a channel for reinforcing the lessons learned in the classroom, offering students the opportunity to apply academic skills in a real-world context, and are thus considered part of a well-rounded education. Recent research suggests that participation in extracurricular activities may increase students' sense of engagement or attachment to their school, and thereby decrease the likelihood of school failure and dropping out (Lamborn et al, 1992; Finn, 1993).
This term we have seen a hype of activity in the Middle School where students have taken full advantage of the many extracurricular activities on offer. We were off to see the Wizard in this year's musical production the Wizard of OZ . Fairhills students thrilled sell out audiences across six performances including matinee sessions for our local feeder primary schools. Hot on the heels of the musical was the Victorian State School Spectacular – held on Saturday 10 September. Our students worked so hard for this and did a 'spectacular' job!
The Wellbeing Team and Student Leadership delivered and fun packed week of activities for Diversity week focusing on Neo, cultural, sexual, and gender diversity and all abilities awareness. Thanks to all the staff and students who took part in Diversity Week….it was a fun week and a great way for students of all levels to work together. This week respectful relationship workshops were delivered to our Year 8, 9 and 10 boys/girls focusing on mental health and supporting their psychological and emotional development needs.
Recently a fantastic team of Fairhills students helped coach and manage thirteen Grade 5/6 'Hooptime' basketball teams for Knox Gardens Primary School and Kent Park Primary School. Our students really enjoyed helping the students and staff with this event.
May you all have a safe and restful September school holiday break.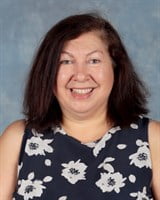 Silvana La Leggia
Middle School Leader
Positivity Awards
Year 7  – Georgia and Will
Year 8 – Ella and Keisha
Year 9 – Jovo and Audrey
KIOSC Science Communication Conference plus Awards!
Well done to our four Year 7 students – Heath, Felix, Zaydah and Grace, who participated in the first KIOSC Science Communication Conference and came away with Awards!!
KIOSC provided students with a complete conference experience, even signing them up and providing conference lanyards and satchels.
Two guest speakers, including Swinburne's Chief Scientist, spoke about their pathway in Science and STEM. Students then took part in the 'Market Place' where they had to man a table and explain the activities they did during their 'Mission to Mars' experience at KIOSC. They spoke to other students, teachers and visiting scientists. The aim was to clearly communicate what they had done, and the science concepts involved.
Ms Cox (FHS Teacher) was so proud that our team won the 'Most Enthusiastic Presentation Award'. Congratulations to Heath, Felix, Zaydah and Grace.
Heath also won the 'Future STEM-inist Encouragement Award'.
It was such a great experience. Ms Cox is looking forward to taking more teams to this Conference next year.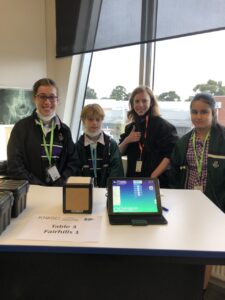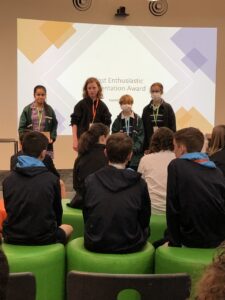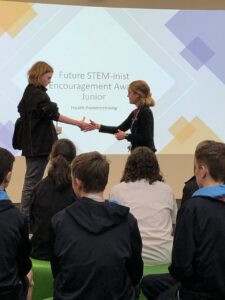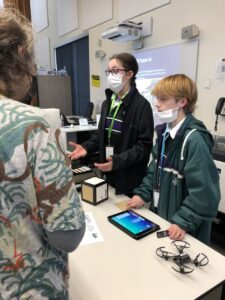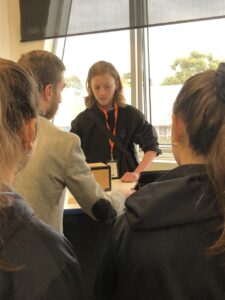 Year 8 KIOSC Experience
Our Year 8 students had a super fun day at at KIOSC, where they learned about Energy and Geohazards. This is a program that explores new technologies to solve environmental issues.
Students explored various building materials that are best for saving energy in different climates, and they presented a lot of creative ideas building their own sustainable houses. They learned how to code drones to save a family from a bush fire. They also investigated different types of wind turbines, and then designed and created the most efficient energy generator.
These activities allowed students to practice team-working, communication, and problem-solving skills. Every student was highly engaged in these small group activities. They were also able to remain calm when things didn't go as planned, identify the possible factors, and came up with their own solutions.
Well done Year 8s!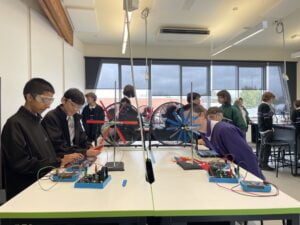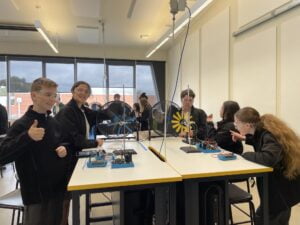 Year 9 and 10 Future Foods
Our Year 9 and 10 Future Foods students designed and created their own Fried Rice recipe.
A seemingly simple recipe, however, they are learning about Food Miles and will soon start the process of learning where each and every ingredient has come from and how it's come from the paddock to our plate!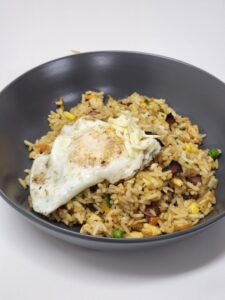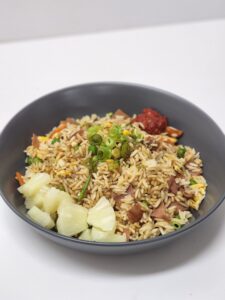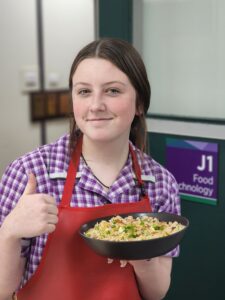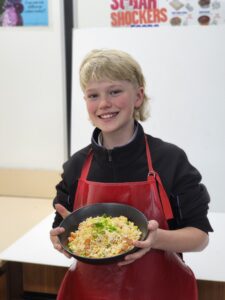 Year 9 Connect
Year 9 and 10G students participated in the Man/Girl Cave Healthy Relationships day this week. Students enjoyed a wide range of activities, interactive workshops and open and frank discussions that occurred throughout the sessions. All the presenters are to be congratulated on the engaging and professional manner in which they conducted the workshops, with particular thanks going to Peta Cartwright, the school's Mental Health Practitioner and Gail Ackroyd, the school's Chaplain.
MCG Visit
Year 9 Connect students had a great tour of the MCG this term. Students were lead around the grounds, locker rooms and members area by a volunteer.  Students had the chance to walk on the hallowed arena and in the footsteps of where legends have walked as well as the MCG Member's Lounge. There were immersed in history at the Sports Museum and had a go at the interactive "Game On" museum where they could cycle, play ball sports and test their reflexes.