Year 7 Parent Information Evening
We were delighted to see some of our Year 7 families attend the Parent Information Evening on Tuesday 17 May to re-visit some of the important issues surrounding secondary school transitions and better understanding teenagers.
Keynote speaker Catherine Manning from Seed workshops delivered an insightful and inspiring session of practical, modern day parenting tips to help raise healthy, happy and confident young people. The evening concluded with a light supper and the opportunity to meet new parents and engage with key staff. Thank you to all those families who attended.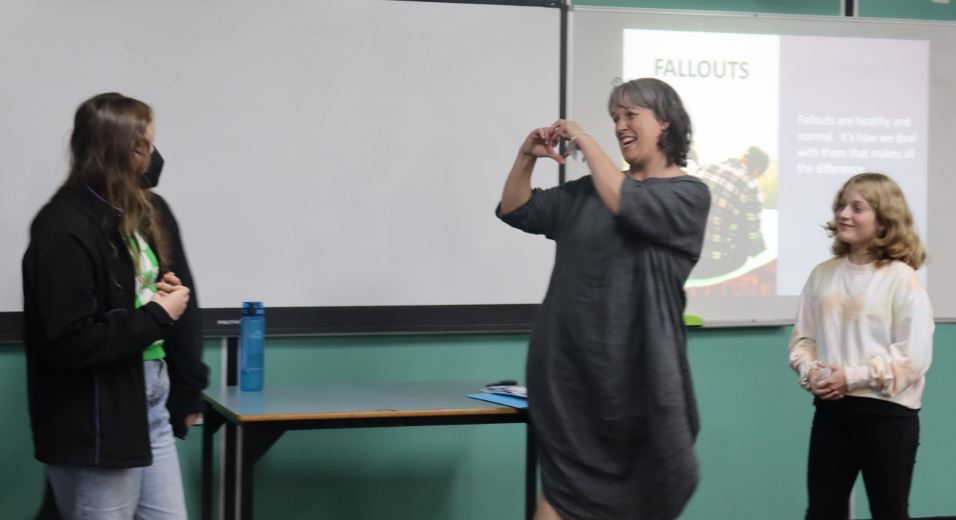 Stymie
After a 18 month delay our Stymie Launch day at Fairhills will finally arrive on Thursday 16th June.
Stymie is an online, confidential messaging service for anyone who is needing help or concerned about someone else. Stymie provides a proactive opportunity for students to say something about harmful behaviours or anything they are concerned about for themselves, or someone else.
It works, because it is accessible 24/7, anonymous, easy to use and messages are typically delivered in a few seconds to approved notification recipients. All students and staff will be trained on the new notification system which will significantly contribute to achieving a zero bullying stance.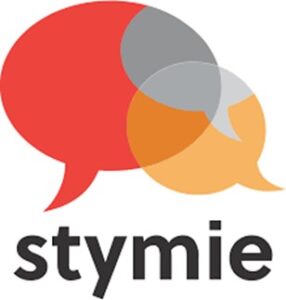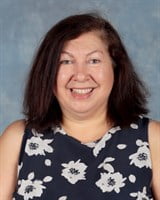 Silvana La Leggia
Middle School Leader
Positivity Award Winners
Year 7 and 8 students who have received positive reports from teachers on Compass are entered into a raffle to win a chocolate from the  Year 7 and 8 Team Leaders.
Congratulations to the following students for winning this month's Positivity Awards:
Kiana – Year 7
Lehansa – Year 8
Recess and Lunchtime in the Middle School
Tennis balls are available for the students to borrow from the Middle School Office at the start of each break. It is great to see students taking advantage of this and playing the age-old schoolyard game of 4-Square (Handball / Downball).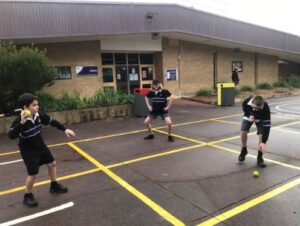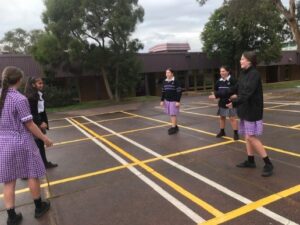 Year 7 THRIVE
Year 7 students during Team THRIVE had fun playing relay table tennis in their lesson on Wednesday. The students focused on Teamwork, which is one of the 24 character strengths. Mr Van Schie the Principal is one of their THRIVE teachers – pictured below with the students.
The photo opportunity was raised thanks to the noise of laughter echoing the school.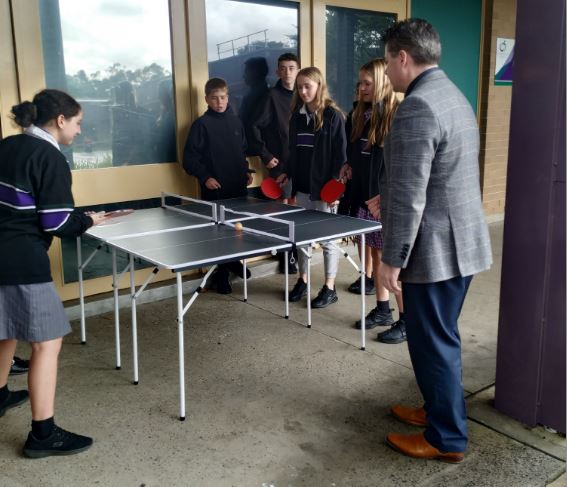 Year 7 Maths – EDROLO
This year all the students were provided the new Edrolo Year 7 Maths textbook. Associated with the textbook is a digital platform comprising videos and worked examples for each of the topic areas.
Assistance has been provided to all classes to help the students access the digital platform and classroom teachers will be setting work from this platform.
This is a useful resource to be able to access at school and also at home. It would be great if parents and carers could ask their students to show them what is available on the EDROLO platform.
Year 8 THRIVE
This month Year 8 THRIVE classes are working on team building skills.  Students participated in team building games to build on their character strengths and important team work skills.
Students enjoyed the hands on collaborative approach to their learning.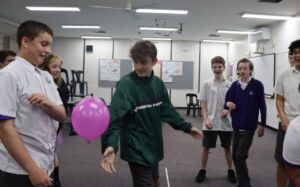 Year 9 Connect
Our Year 9 Connect students have been really busy – check out what they have been doing:
Glenfern Valley Bushland
The Year 9 Connect students recently spent an enjoyable day assisting the Friends of Glenfern Valley Bushland and participated in a day of planting trees in a section of the fire damaged area of the reserve. Students were supervised by a number of volunteers who, not only showed them how to effectively plant young tress, but also talked about weed management, habitat preservation and plant identification as they walked around the reserve observing the 'Valley Grassy Forest', the waterways and the flora and fauna. I was pleased to hear that both the students and volunteers enjoyed working together for the day.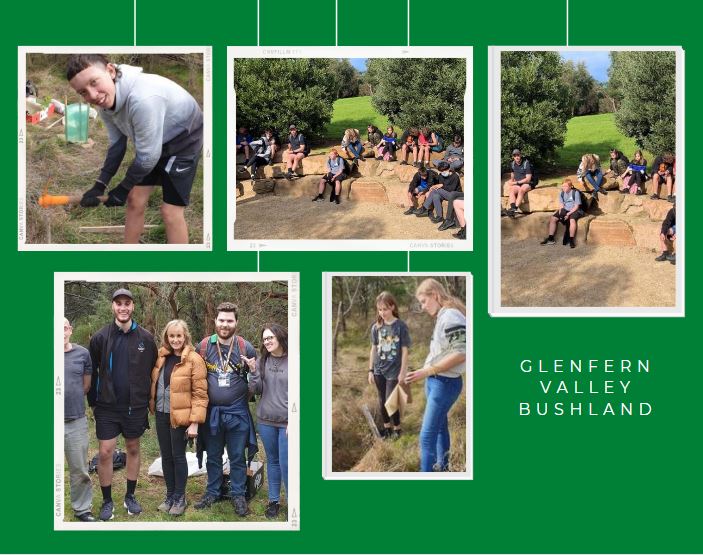 Fairhills High School Oval Work
Well done to our Year 9 Connect Groups who spent a cold morning cleaning up around the oval in preparation for their projects, as well as fixing the cricket pitch and creating a welcoming area to socialise. What a great job you have all done!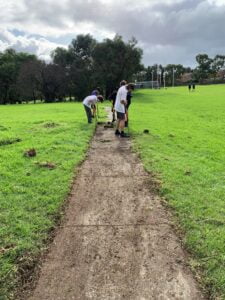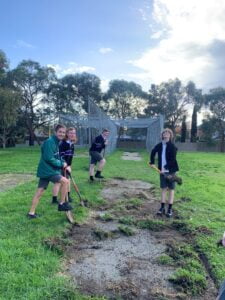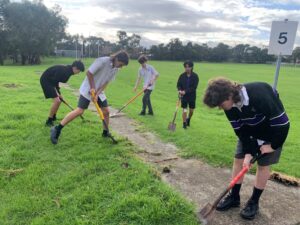 Foothills Community Care Centre
In addition to the above activities, students are still supporting Steve Barrington, CEO of Foothills Community Care, and cooking a delicious range of soups each week to help the needy within the Ferntree Gully community. Thanks also goes to Alexia (Year 9) who volunteers her time each week to serve at the community care centre.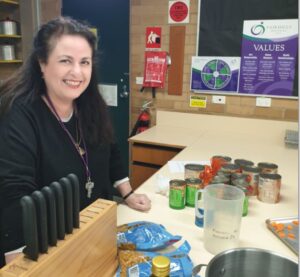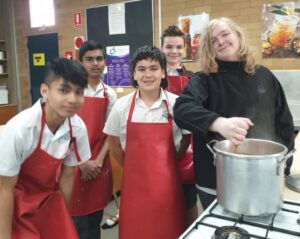 Education Perfect
Education Perfect was book-listed for students in Years 7-9, as a resource to enhance your student's learning. It is an online library of curriculum-aligned lessons and assessments across all subject areas. Content is scaffolded to allow all students to experience success, while providing rich opportunities for higher order thinking.
Teachers are setting activities, quizzes, learning tasks and assessments on Education Perfect.
Students who do not have this engaging resource will be provided an alternate task.
If you did not subscribe we ask that you do so as soon as possible by accessing this link: https://help.educationperfect.com/article/742-how-do-i-pay-for-a-subscription-through-the-student-zone