Dear all,
As we head into the winter break, the Middle School staff would like to thank all our parents and students for their support in term 2. As ever, the strength of our school community remains strong.
There have been many highlights to celebrate this term:
Reconciliation Week
Fairhills High School remains committed to the teaching opportunities discussions about aboriginal reconciliation affords. In Week 6, we celebrated Reconciliation Week through a series of activities, the theme this year being' Be a voice for generations'.
National Sorry Day held every year on 26 May remembers and acknowledges the mistreatment of Aboriginal and Torres Strait Islander people who were forcibly removed from their families and communities, which we now know as 'The Stolen Generations'. During the lunchtime activities students had the opportunity to take part in a handprint activity and think about the importance of National Sorry Day and what it means to say sorry.
NEVR Youth Concert
Congratulations to our middle school students who participated in the NEVR Youth Concert: Fire and Rain on 29 May!
Seven of our dedicated vocal students performed two songs as part of the mass Secondary School Choir, under the direction of Dr Lisa Young, as part of the annual NEVR concert at Hamer Hall!
After two full days of rehearsal, our singers learnt challenging pieces that extended their musicianship and performance skills. They made new friends, wonderful memories and are already preparing for next year.
Co-Curricular Activities
Term 2, 2023 saw a continuation of the plethora of co-curricular opportunities on offer at school. There have been high levels of student engagement in these additional programs running before school, during recess and lunch and afterschool. It is also important to acknowledge the efforts of our school's great teachers and support staff who devote large amounts of discretionary time to organise and deliver these programs.
Students at all year levels are strongly encouraged to seek ways to become involved in our school's co-curricular offerings. Programs include Dungeon and Dragons, Art, gaming, Dance and Philosophy clubs and Basketball Academy.
Congratulations to all students on the successful completion of Semester 1, 2023. Best wishes to students and families for a safe and restful holiday break.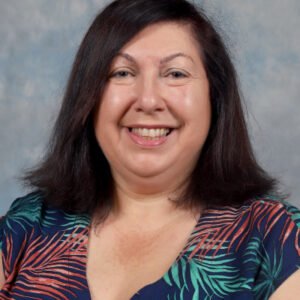 Silvana La Leggia
Middle School Leader
Year 7 Science – Chromatography
This term in Year 7 science, students learned about mixtures and separating techniques. They took a chromatography test to separate the colours in food colouring and textas. As you can see in the photos, they did a great job in this experiment as the mixture of colours came out very nicely!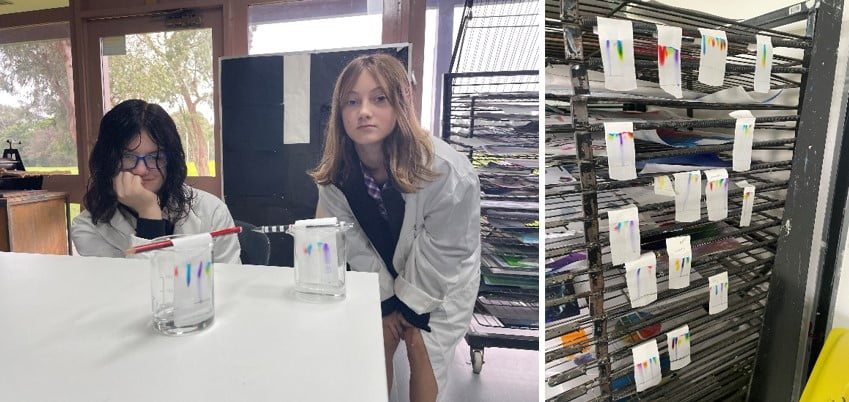 7/8 Technology The a'maze'ing Sphero Challenge
In technology, the students designed and create a maze. They used their coding knowledge to program the sphero robots to navigate it through the maze successfully. A lot of students demonstrated great resilience during this challenge and persisted perfecting their code to make it work. Very impressive work!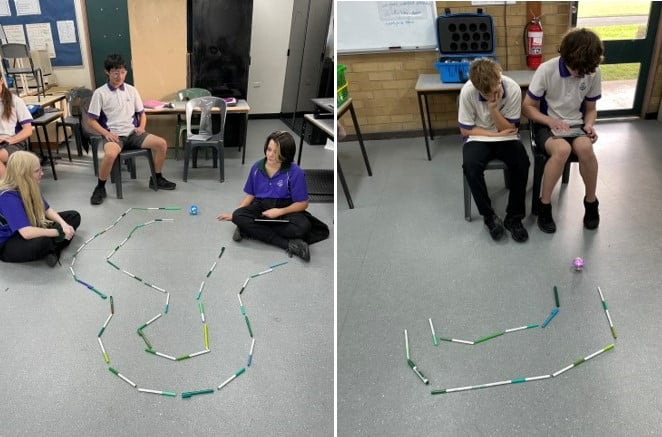 Year 7 KIOSC 'Mission to Mars'
Our Year 7 students had an unforgettable time at KIOSC participating in a "Mission to Mars" program. This program provided them an opportunity to experience a number of activities including flying drones, VR headset mission, planning colonisations on Mars, martian chemistry and a 3D igloo experience.
The excitement and enthusiasm displayed by our students throughout the day was proof that this program was a huge success. It was a fantastic way to engage students in STEM learning and inspire them for their future careers.

Year 9 Tree Planting
The Year 9 Connect class went to Glenfern Valley Reserve to plant trees with the volunteers. The students managed to plant trees in the morning with only a little bit of drizzle. After lunch the weather cleared and we walked around the Reserve to see some animals and the trees that were planted last year. This activity has instilled a sense of responsibility and ownership among students towards their environment, and the Friends of Glenfern Valley Reserve were happy for the assistance.