As we celebrated the graduating class of 2022 this week at the Valedictory Dinner it reminded me of the importance and need to equip our students with the necessary life skills of resilience, self-confidence and independence to ensure that our students can navigate a successful pathway in life.
Students at Year 9 had the opportunity to develop and build these skills when they attended the Year 9 Camp at Charnwood where despite torrential rain, persevered with bravery and grit to undertake the challenging adventure activities offered. Congratulations to our Year 9 students and team leaders, Karen, Greg and Mitch for all their efforts.
As Term 4 sweeps in and we head towards the summer break, there is an emphasis in preparing and up-skilling our students to transition successfully into the 2023 new school year. Year 7- 9 students have been working on an explicitly teaching literacy task word unit to help improve student literacy across the curriculum and develop key term literacy skills in preparation for exam/test assessments. As students become familiar with the vocabulary of common task words they become more confident in their ability to answer questions using these task words. A big thank you to Michelle Nickels our Integrated Curriculum and Pedagogy Leader in preparing this body of work.
Similarly, I encourage parents and students to review any outstanding learning tasks on Compass and to be pro-active to ensure that this work is completed. Please also reach out to the teaching staff for any assistance and support needed.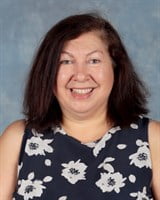 Silvana La Leggia
Middle School Leader
Positivity Awards
Congratulations to Georgia of Year 7 and Kaylee of Year 8 for winning the Team Leader Positivity awards this week.
Both students have received positive reports from their teachers on Compass and were entered into a raffle to win a chocolate from Year 7 and 8 Team Leaders, Ms Parker and Ms Power.
8B Maths Venn Diagrams
Students were asked many questions for example do you prefer basketball or football, books or movies, chocolates or ice-creams, Marvel or DC etc. Students were required to stand in the Venn Diagram to show their preference of A, B or both. There were lots of interesting questions and conversations. Everyone was super excited and engaged. At the end of period, quite a few students were saying maths was fun!
Year 9 Connect Camp
Year 9 Connect students have recently returned from a three-day camp at Carnwood. This unique campsite is a three-hour drive from Knox and just outside of Benalla. Although the weather was wet and overcast for most of the time, all thirty students participated in, and enjoyed, a range of adventure activities that included: bushwalking, mountain bike riding, canoeing and a range of team building exercises. Due to the wet they weren't able to do the sleep out they were still given the task to cook for themselves (and their teachers) on an open flame. The students had a unique opportunity to enjoy the wide-open spaces of this remote valley, develop their leadership and problem- solving skills and connect more closely with each other and the staff. Everyone involved in the camp demonstrated a positive and supportive attitude towards each other.


Scienceworks
On 19 October, Year 9 Connect students went to Scienceworks. They enjoyed exploring the activity centre as well as doing a robotics program and engaging with a sensory experience.