New Books
Recent new additions to the collection include:
Good Selfie – Tips and Tools for Teens to Nail Life – Turia Pitt
This book contains simple strategies to help teens build self-confidence, get through hard times and go after massive goals. The author, Turia Pitt was caught in a grassfire while competing in a 100km ultramarathon in the Australian outback. With burns to 65% of her body, Turia has had to rebuild her life and establish her confidence again. Turia shares her voyage and advice using a boldly designed, straight talking funny approach.
What Shape is Space – Giles Sparrow
This book sets out to answer a simple question however measuring and interpreting the shape of space has huge implications for cosmology – the science of the past, present and future of the Universe itself. With a unique visual approach, this book makes complex concepts easy and interesting and gives you the tools to join the debate.
Always – Morris Gleitzman
The much anticipated final journey in the story of Felix – hero of Once, Then, After, Soon, Maybe and Now. It's fifteen years since readers were first introduced to Felix across six celebrated books and our brave young hero has survived many unforgettable and emotional journeys but there is one more!
The Silver Eyes – Scott Cawthon
A Graphic novel adaptation of the #1 New York Times Bestseller. Ten years after the horrific murders at Freddy Fazbears Pizza, Charlie and her childhood friends reunite on the anniversary of the tragedy and find themselves at the old pizza place. Things are not what they seem however and the friends must overcome their own terrifying experience. Based on the popular computer games.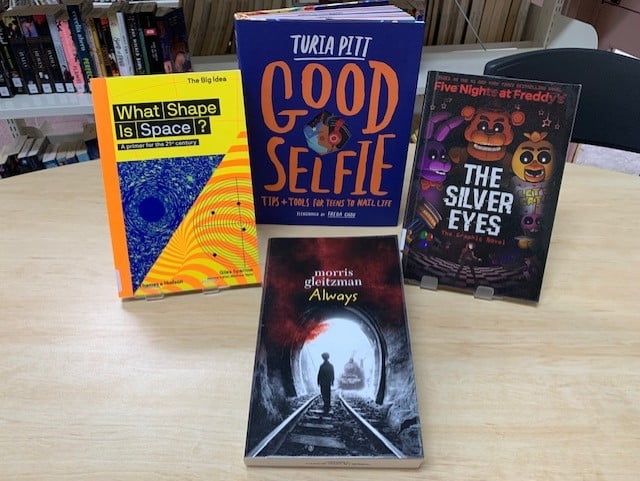 The Library is moving back to it's old home
Reminder that we will be moving back to the old Library from 5 August 2022 – see you there!