Principal's Message

School Value – Act Responsibly
On Tuesday November 8 students attended a whole school assembly that focused on our core value Act Responsibly.
At FHS this means that all members of the school community:
develop high expectations
follow school rules and expectations
lead by example
model positive behaviours
be honest with yourself and others
I want to focus on the first two behaviours
1. Develop high expectations
There was a famous study that introduced the Pygmalion effect, which states that the expectations that teachers have of students has a significant impact on student outcomes.
Teachers were told that the students in their classes were intellectual bloomers which essentially means 'gifted students.'. When these students were tested at the end of the year their growth was significantly higher than students from other classes. However, the teachers were surprised to hear that their students were not 'gifted' but randomly selected. As the teachers thought they were high ability students they were treated differently and judged as more interesting, curious, happier and more likely to be successful in future years.
Recent research has supported this experiment and found high expectations were an even more powerful influence on learning progress than relevant lessons, strong friendships and a positive attitude to homework. High expectations were particularly powerful for disadvantaged students.
It is the staff's responsibility to have high expectations of all of our students.
2. Follow school rules and expectations
As a staff we developed professional expectations last year that are linked to our school vision, 'Inspiring and empowering members of our school community to achieve their full potential in an inclusive and supportive environment.'
We have 40 professional expectations which include:
Taking time to know each student
Having high expectations
Praising effort and determination
Practicing kindness with all members of our community
Embracing student-led learning
Having a deliberate and consistent approach
Like staff (and adults in general) students have expectations that are required to be met and embraced as a member of the Fairhills community.
Act Responsibly expectations include:
Attendance above 90%
Wearing the uniform with pride every day
Being prepared and ready to learn
Moving, learning and interacting safely
Following the rules and agreements of all spaces
Seeking and giving help
Martin Luther King once said, "Our lives begin to end the day we become silent about things that matter." Seeking and giving help is not just learning based but also supporting people when they are in a difficult state or situation.
At Fairhills High School we are educating our students to Act Responsibly by becoming Upstanders, so when they 'see something wrong they will act to make it right.' It is tough to be an Upstander, but we want to empower the silent majority to not sit idly by when they see something wrong.
"Pride is holding your head up when everyone around you has theirs bowed. Courage is what makes you do it."― Bryce Courtenay
At the assembly we recognised students who continually demonstrate our core value of Act Responsibly.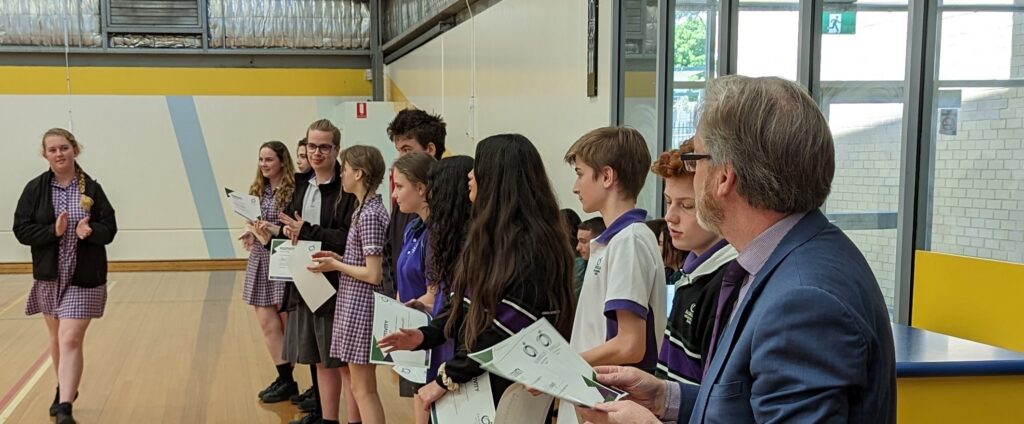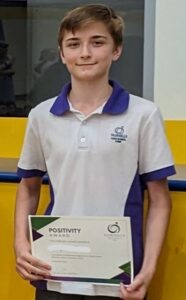 2023 Bell Times
At the moment we are examining our bell times for 2023. We have looked at a variety of data and researched other schools to determine the best times to enhance a supportive and orderly learning environment.
Last week a survey went out to parents/carers and students regarding options for bell times.
There were 154 respondents, with 86% being students and 14% parents.
Recess, lunch and finishing times
I would prefer:

The majority of students chose the blue option.
Some reasons stated were:
It would be a lot easier for people that work after school and for people who catch buses
I'd rather go home earlier and get more time to study and do school work before I have extracurricular activities
I would rather have a short recess and lunch and go home early
Approximately 50% of parents chose the orange option.
Some reasons stated were:
Longer lunch for lunch activities
An early finishing time would be good but it shouldn't come at the expense of breaks.
It is also more restrictive on working parents as there is less hours for us to work and remain supervising our children and keeping them out of mischief and trouble.
Some other feedback included:
Parent (option red)- I have other children to get from school and early finish will help with that.
Parent x 3 (option yellow) – should have same finish time everyday
Student – It would be a lot easier for people that work after school and for people who catch buses
Student (option yellow) – Consistent finish time aides routines
Student (option red)- I think the break times are a good length and the end time seems reasonable
I would prefer house groups (twice a week for 15 minutes) to run:

Some feedback included:
After lunch – Get the hard learning out the way in the morning while students are more focused.
After lunch – Less productive later in days. House groups great to reset and motivate.
After lunch – House groups should be a place to debrief and update on coming events.
After lunch (6) – don't want it to run into break times/less grumpy/make lunch feel longer
Before recess – It's more convenient and I would probably forget if it was before or after lunch
Listen to the bells and choose your favourite option.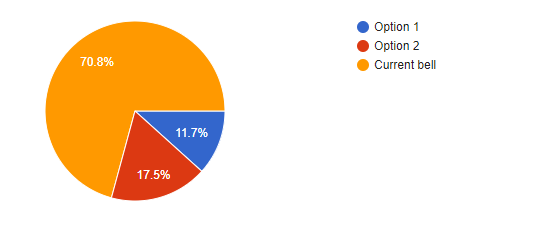 Our current bell was overwhelmingly the favourite.
Some feedback included:
Maybe later but not at this stage
Both the others are junk
I will drop out if it isn't option 2
maybe louder bells, etc in music rooms is hard to hear.
Transition times
After careful consideration there will be no period transition times in 2023. Therefore, students will not be allowed to return to their lockers between periods 1&2, 3&4 and House group and period 5. Students will be expected to have their required materials (except for PE) for both classes.
Why are we making this change?
Empower and support students to become more organised
Minimise risk of negative behaviours occurring
Due to the sub school set-up walk time to classrooms has been significantly reduced
The majority of schools do not have transition times
I understand that this will be difficult for some students to begin with but it shouldn't take long to change habits with support. More information on this will be supplied at the return to school meetings on January 30.
Return to School Interviews
Late November, 2023 Y8-12 parents/carers will be receiving a Return to School Interview email from the school. There will be a booking link in the email parents/carers. This link will be available for a few weeks. After this time parents/carers who have not booked a time will be allocated one.
The mandatory interviews will be held on 30 January 2023, from 11:00am-7:00pm
The key aims of the Return to School Interviews is to:
Ensure a positive start to the year for students
Build closer relationships between parents/carers, students and the school
Provide important 2023 information to parent/carers and students
We look forward to meeting with parents/carers and students on the day.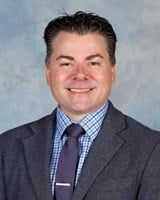 Ian Van Schie
Principal