Principal's Message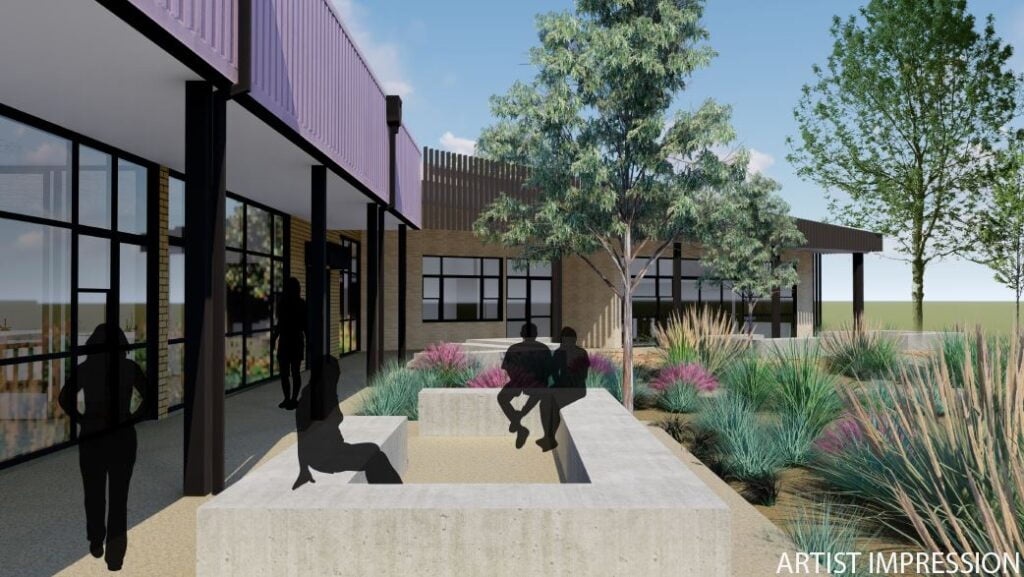 Fairhills at 50
The Sunday Funday on 8 October was an amazing success with a stream of alumni (former students), local and school community coming through the gates all day.
We also had some dignitaries attend the day which included:
Jackson Taylor – Member for Bayswater
Matt Fregon – proud alumni, member for Ashwood,  Deputy Speaker of the Legislative Assembly
Mary Doyle – Federal Member for Aston
Harvey Wood – Principal of Fairhills for 20 years
I want to thank the 50th birthday committee for doing an incredible job in the planning and implementation on the day.  The Funday committee comprised of Bill Exton (Event Manager),  Heather Kirby (Nostalgia), Sally Davis (Alumni), Nicole Blanchard (Jack of all trades and great on the BBQ), Sarah Power (Music Performances), Suzi Pedler (food) and Jessica Winstone (Cosplay).  A big thanks to the wonderful students who volunteered their time on the day and demonstrated the school values impeccably. I also appreciate members of staff who came in and helped out.
Beautiful weather, a variety of events and great people to share it with.  An inspirational and unforgettable day!
New learning hubs in 2024
I am pleased to inform you that the STEM/Senior School Learning Centre and Music Learning hub are on track to open Term 1 of 2024. This is very exciting news for all of us as it has taken quite a long time for:
The school to get funding for new buildings (47 years to be precise)
The completion of these new building (we were given the funding at the end of 2020!)
We are busy now working out all our furniture needs with the hope that all classrooms will be fit for purpose when classes begin in 2024.
As well as these amazing new learning hubs we have been upgrading aspects of the school through our minor works initiatives. I want to thank those parents/carers who pay their annual contribution that allow us to build school pride via minor works and amazing learning opportunities
In 2023 we have/will:
| | |
| --- | --- |
| Minor Works | Date |
| Laid new vibrant carpet in the Year 7 & 8 Learning Hub | Completed |
| Laid new vinyl in the Art Learning Hub | Completed |
| Designed and planted new garden spaces along the main entry into the school | Completed |
| Revamp the Year 7 & 8 Learning hub external walls with cladding and fresh colours | Completed in Christmas holidays |
| Outdoor classroom in the Senior School courtyard | Completed early 2024 |
Toni Kirk (our incredible Business Manager) has put in an application for a sizeable grant to modernise our courtyard toilets. We don't know if we will receive it but we have been informed we are into the next round. Fingers crossed everyone. You have to be in it to win it!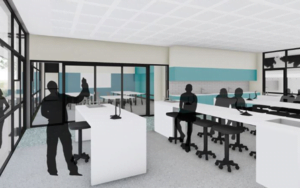 Victorian Treasure visit
On 13 October we were fortunate to have Tim Pallas the Treasure of Victoria, alongside Jackson Taylor, come to visit the school. He was very impressed with the school and the great opportunities available to the students. He met with our terrific Year 12 leaders, went on a tour of classrooms and met some of dedicated students and passionate teachers.
I argued our case for further Capital Works funding e.g. lots of government schools in affluent areas have amazing facilities, where is the equity? Credit to Mr Pallas, he listened attentively. I hope that due to the treasurer's visit and Jacksons ongoing advocacy of Fairhills, we will receive Stage 2 funding in the next couple of years.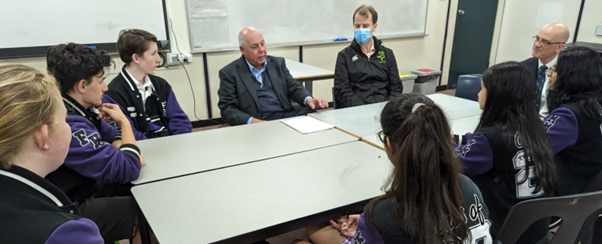 Dealing with distressing online content
With the tragic and distressing events unfolding in the Middle East, Australia's independent regulator for online safety, eSafety, has issued guidance to help parents and carers support their children in dealing with distressing online content. The eSafety website has resources for parents and carers about online safety. These include information on extra precautions you can take to protect your children from seeing disturbing content online.
eSafety encourage parents and carers supporting young people who may be more vulnerable to check in with them. If they are presenting with signs of distress, support is available through external services including:
Headspace: 1800 650 890
Kids Helpline: 1800 551 800
Lifeline: 13 11 14
Beyond Blue: 1300 224 636
Ian Van Schie
Principal